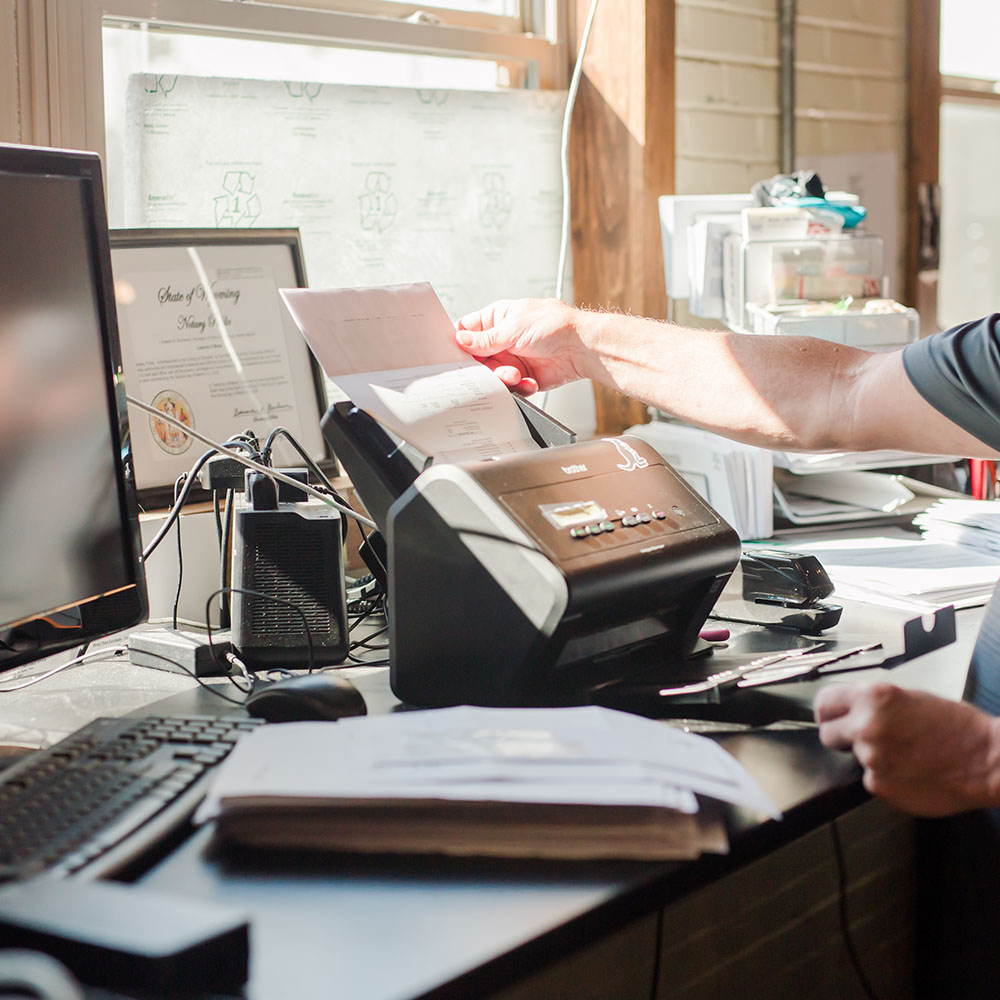 We accept mail for our clients. Once received at our office, we will open and scan your letters or documents to you the same day and notify you right away. This is the way we process service of process and secretary of state notices as a registered agent, but we also understand it makes sense for Wyoming business owners to have important business mail in one place. For this reason, every one of our registered agent clients also has the option to list our address for their company and gets 3 free pieces of mail forwarding a year.
To take it to the next level, we built out additional options for our clients to adopt our business address as their own, receive their own unique suite number at our office, and include more digital mail forwarding. As a mail forwarding client, you may list our address on your bank account, marketing, or whatever you need to to facilitate day to day operations. If we get your bank debit card, we forward it to you. If we get a box of checks we forward it to you.
Wyoming Mail Forwarding Plans:
We offer multiple Wyoming Mail Forwarding options  so you never get stuck paying for more than you need, and *both* options include a unique suite number for your Wyoming business. With either option, we process your mail daily and email to notify you of new mail in your account. Once you complete the mail forwarding signup, you will be assigned a Wyoming business address unique to your company at a commercial office address in Wyoming. You will be able to use the address for all your mailing needs immediately after it is assigned to your company. Each option provides your company with additional mail scans on top of the 3 free scans we provide to all of our registered agent clients.
$49/year for 10 additional digital mail scans
$99/year for 25 additional digital mail scans
$19/month Virtual Office Package: Unlimited mail, phone service & office suite lease
If you need of a Wyoming phone number (with a 307 area code) for your Wyoming LLC or Corporation, we also offer Wyoming Phone Service a la cart for $99 a year. This state-of-the-art virtual phone service includes unlimited call forwarding to any U.S. number, texting, voicemail, is compatible with any device, is also easily managed through the app or within your client account, and comes equipped with all the features of a real phone number.
| | | | | |
| --- | --- | --- | --- | --- |
| | Buffalo Registered Agent Service | $49 Buffalo Mail Forwarding | $99 Buffalo Mail Forwarding |     Buffalo Virtual     Office |
| Business Address | ✓ | ✓ | ✓ | ✓ |
| Mail Forwarding | 3/year | +10/year | +25/year | unlimited |
| Suite Number | | ✓ | ✓ | ✓ |
| Office Lease | | | | ✓ |
| Phone Service | | | | ✓ |
Wyoming Mail Forwarding FAQ:
Can I  list a Wyoming Mail Forwarding address for my business bank account:
You can list our address for your bank account. If you use a local bank where you are, just have your bank mail your debit card to your local bank, and have your business checks come to your local bank and pick them up there.
You'll still use our address for your bank account. And if we get a bank card or checks for you, we'll forward them to you for a mail handling fee.
I just need a few things sent there, I'm too cheap to pay for forwarding service. Do I really need any of this?
We get that. We hate spending money also. We try to accommodate our clients and get your documents to you. We'll forward on a few things for you no problem. That's what we do. If you want a unique suite number or want to have a bunch of mail come to us and we process it for you, the $49/year package is our cheapest option. Heck, you can start out with the free option and just add the paid Wyoming Mail Forwarding only when you're absolutely sure you'd use it.
I want to have a lot of mail sent there, is that a problem?
Not at all. Our client accounts were custom designed for exactly this, so there is no data limit or anything like that to worry about. Beyond that, it's just a matter of picking the plan that best matches your needs so you don't pay for anything you won't use but also avoid fees for going over a lower mail limit. The nice thing is, if your needs drop or grow, you can easily switch plans within your account.
Here's a recap of the three options for you:
$49 or $99 a year plan:
You'll have your own suite number and can receive as much mail as you or your business needs. All documents received beyond the package limits will be subject to a $15/item processing fee, but either plan gets you a unique suite number for your business to be up and running.
$19/month Virtual Office:
Go unlimited and get all the extras including a 12-month office lease, a unique office suite number, Wyoming Phone Service, and mail forwarding, and never worry about document limits
Any of these services can be ordered with registered agent service or with a new company order. You're also not locked in to a contract. You can switch plans or cancel however it makes sense for your business.
Can I use a Mail Forwarding address to sell on Amazon?
Yes, you can list a Mail Forwarding or Virtual Office address with Amazon. There are a couple of things to keep in mind. First, watch for the address verification postcard they'll send us to confirm the address effectively. Secondly, just be sure you're using the address in a logical way for your business. For example, it doesn't make sense to use a mail forwarding address for your product return address. Multiple shipping fees, delays in processing by it coming to us first, and package processing fees wouldn't make that ideal.
How do I get Wyoming nexus?
Hiring someone in Wyoming to give you a Wyoming phone number and address, have your mail sent to Wyoming, have a phone number forwarded to your real number, and claim you have "Wyoming Nexus" probably isn't going to hold up in court in your home state as saying your business is actually here and not there. We have provided some unique solutions for people taking this whole "Wyoming Nexus" thing to the extreme. We actually have a nice basement room that we offer out to co-locate servers at. We are also willing to do some secretarial services by the hour that will help your business. One of the litmus tests of Wyoming Nexus, is if your business has a substantial base in Wyoming. If you're this concerned about it, we do have some options that might help, but we want to be clear, that none of them have ever been tested in court. All this is fluff and a hope until someone gets stuck in court. Ask someone selling you this if they can show you a case that has held up in court. Another real point here is that to go through all the hoops of Wyoming mail forwarding, Wyoming virtual offices, and Wyoming phone numbers with the point of Wyoming Nexus, you should really have some substantial profit you're trying to shelter or really none at all. There's a lot of point to having a Wyoming business on the front lines as your operational business. We can help you accomplish this. We just want to make sure you are not thinking by spending a few hundred bucks a year in Wyoming that you'll get out of all your taxes locally.
If you want bulletproof Wyoming Nexus, you need employees here and you need to come here on a regular basis and do business here, and you need to not conduct business in your home state. Is that worth it? We see a lot of clients waste a lot of money with our snake oil salesman competitors, selling an expensive hope that won't accomplish much of anything should the client end up in court. We can help you have a Wyoming business, but we don't sell you an illusion; that's not how we operate.
Do I even want Wyoming nexus?
No state is perfect. The key is to use each state to your benefit, not theirs. We have odd unemployment insurance laws for owners, high property taxes, and a lot of uniquely high taxes for people that actually live here. Just look at the annual report. It's $52 for you folks that aren't here, but a ton more for us that actually have business assets here. We don't have personal or corporate income tax. Which is our calling card. We recommend using a Wyoming company because of that and that alone. . For real! Incorporating in Wyoming is the best place in the U.S. to incorporate, but don't waste your money on something that will make you look sketchy. Incorporate here, have a Wyoming company, and if you want your mail here, we have a Wyoming mail forwarding solution for you, if you want a WY phone number, great, but do business in your home state, pay your home state taxes, and sleep well at night.
Court after court after court has held up that where you incorporate matters… Just that alone! You don't have to support other registered agents that are selling you extras. You can just incorporate here and have your mail sent to wherever you are at or have it sent here and we'll forward it on to you for free if it's a few items, or if you have to ask what a few is, we'd like $99 a year.
So what should I do?
In short: Form a Wyoming LLC or Wyoming Corporation. There's no Wyoming taxes for your business to our state. Use the registered agent address on the public articles, use a registered agent to organize your Wyoming LLC or Corporation to keep your name off of the public records. Pay your taxes in your home state. An LLC or a Corporation can be elected to be treated with the IRS as a C Corporation and pay corporate income taxes so that your profits don't get dumped onto you personally. If you live in a high income tax state, you could just never pay yourself dividends from your Wyoming entity and thus try to hide your company from your local government, but do you really want to do this? Many people do want to do this, and we will try to help you as best as possible if that's the route you desire.
I want to have a Wyoming phone number so I have WY nexus:
Well, in no way shape or form is renting a virtual office, paying someone to forward your mail, and paying someone to either answer your phone in Wyoming or forward your calls to you wherever you are at give you "Wyoming Nexus". In fact, if you are in a court explaining yourself to a judge, this will have the opposite effect and make you look even more sketchy.  BUT, if you want a Wyoming phone number, we can get you a Wyoming phone number for $99 a year, or select the monthly virtual office service with Wyoming phone service included for $19/month.
What is the benefit of forming a Wyoming company?
Wyoming has the best liability protection of any state in the US. We also have very low fees ($50) to keep it going. You don't have to list your personal details on the public secretary of state website. It's easy to register your Wyoming company in other states because we don't charge for a certificate of good standing and it can be obtained instantly. Other popular states like Delaware don't even show you if the company is in good standing online and you'll spend 100 bucks getting a certificate of good standing in a reasonable time period. Nevada charges you $50 and you have to waste your afternoon setting up an online account and waiting for their system to process your order and put your certificate in your online account. Wyoming is instant and free.
You might live in a high income tax state like California, New York, or Oregon now. Eventually you might move. Re-incorporating down the road will be a real hassle. Also investors or someone who might buy you out some day aren't going to want to buy into a company incorporated in California or New York. They will probably want you to re-incorporate in a state like Wyoming anyway to do the deal with you. Incorporating in Wyoming will at least allow you some options down the road if your company gets big enough to do some fancy corporate structuring that you shouldn't worry about now because you're probably not profitable enough. Maybe someday you do have enough profit where it would be worth it to hire employees in Wyoming and actually have nexus in Wyoming. Wyoming has a very low cost of living, so you can hire great talent for a reasonable price. Registering as a foreign corporation or foreign LLC in California at least gives you options to not associate all your income with California. It also gives you an easy option to get your business out of California someday by simply withdrawing it and filing a final tax return. If you are an S corporation, LLC, or LLC elected to be taxed as an S Corporation, your income will more than likely come down onto you personally and you'll pay high personal income tax rates on that income even if you're incorporated in Wyoming, and paying for mail forwarding and a Wyoming phone number will not do anything to legitimize your Wyoming entity or avoid taxes.  Many Californians form C Corporations and don't take distributions to keep the profit at the company level.
What's the final game plan?
We include Wyoming mail forwarding for free with our registered agent service. That's a great option for most, assuming your business will receive five pieces of mail or fewer each year. Our registered agent service is just $49 a year. If you have us form your company, your total is just [inc-price] total. The cheapest price in the entire state. If you'd like to have a lot of mail come, we ask that you pay us for that and utilize one of our many mail forwarding plans.